J. Eric Willis
President - Willis & Company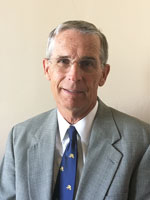 Mr. Willis founded Willis & Company, Inc. in 1990 and has served as president since that time. Eric's unique skill set of leasing, property management, law, construction, and finance has allowed Willis & Company to grow immensely since its inception.
Prior Professional Experience
Prior to founding Willis & Company, Mr. Willis was vice president and co-general manager of WSJ Properties, a real estate company that developed and managed 3,000,000 square feet of commercial buildings in the Bay Area. Mr. Willis' responsibilities as vice president and co-general manager were to oversee the lease-up of the large office and R&D properties. Additionally, Mr. Willis was responsible for overseeing all of the administrative systems and monitoring the entire 3,000,000 square foot portfolio, including the in-house tenant improvement construction department, which billed and collected $2.5 to $6 million per year.
Professional Accreditations
California Real Estate Broker's License since 1986.
Member of the California State Bar since December 1973.
Contact us
today to develop the perfect selection of property management services to meet your goals.